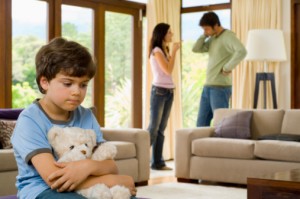 Going through a divorce is a difficult time, both for the couple involved and their children. What makes it especially difficult is deciding who gets custody and how the child's time will be divided between parents. Judges will determine a custody battle by considering what is best for the child and looking out for the best interests of the child. However, there are several factors involved that will determine a judge's decision. Below are a few common factors that will determine the outcome of a custody battle.
The Child's Age and Gender
The first factors that a judge will probably consider when settling a custody battle is the age and gender of your child. If a couple's child is very young, chances are in the mother's favor. That being said, nowadays a judge does not usually have a gender preference when determining custody. That is, a father will not necessarily get custody of his son and a mother will not necessarily get custody of her daughter. The judge will examine which parent can better provide care to a child of a particular age and gender. It is also important to note that siblings are unlikely to be separated.
The Child's Personal Preference
The child's personal preference is also taken into consideration. However, how much weight this factor holds will depend on the age of the child. While a 6 year old's opinion will be considered, it will likely not hold as much weight as the opinion of a 14 year old. While it differs between states, generally when a child is between the age of 12 and 14 his opinion begins to receive more substantial weight.
The Parent's Lifestyle 
There are a variety of factors regarding the parents that a judge will consider. First and foremost, a judge will consider which parent can best provide for their child's physical, emotional, and medical needs. A parent's health and their financial stability are both common factors influencing the outcome. For example, a mother who frequently moves, thereby uprooting her child's education and influencing their grades, will not be seen as beneficial for the child. Other factors considered by a judge are whether or not any allegations of abuse, neglect or violence have ever been filed against either parent, whether any claims have been falsely filed, and how willing a parent is to let the other parent see the child. The parent who is awarded custody must be able to provide their child with the necessities of life.
The Child and Parent's Relationship
Another one of the most important common factors a judge considers is the relationship the child has with either parent. If one parent has been more present for the child's life so far, that parent will probably have a better chance of winning custody. Love, affection, and emotional ties are all strongly considered by a judge.
Going through a divorce is stressful enough, but the added stress of custody can make the whole situation overwhelming. If you're headed into court to determine who gets custody of a child, remember that a judge will not make a decision on just one factor. All of the above are common factors that a judge considers. At the end of the day, a judge will make a decision that is in the best interest of the child.
If you are amidst a custody battle, you should seek a professional to help you fight for the rights of your child.   Charles R. Ullman & Associates is a team of child custody lawyers with experience advocating for children and their best interests in North Carolina.  For more information about custody battles and processes, visit the website at www.DivorceLawCary.com.