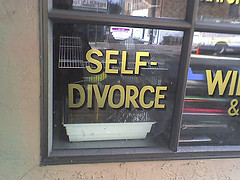 It seems like an entirely logical conclusion: if ending a marriage is now as simple as visiting a website and spending a few pounds, then divorce is clearly too easy. This criticism – which we face quite regularly – may appear entirely reasonable. It is, however, glib at best and, at its worst, nothing short of irresponsible.
Marital breakdown is unfortunate and, it is certainly fair to say, unpleasant for all concerned. Yes, marriage should be encouraged and those couples that experience difficulties that threaten their union should be provided with assistance. But if a couple cannot resolve their differences, then legislation exists that allows them to divorce for a very good reason: there is little point in keeping a couple that are unhappy together bound to one another. Yes, such a transition can be hard for any children that may be involved, but common sense dictates that this will not be more damaging than growing up in a household within which neither parental figure wishes to reside. That is not to suggest that more should not be done for children of divorce (helping them to adjust and regulating the damage that divorce can cause should be both parents' and, indeed, society's main concerns) but that, however perverse it may seem, that their parents' divorce need not have a long-lasting and adverse effect if managed correctly.
Ultimately, divorce cannot be made to be too easy – it is, with very few exceptions, an extremely difficult and emotionally painful process. This is why so few people (if any) take the decision to end their marriages lightly and will do everything they possibly can to try and save their marriages before deciding to even separate. Following this, many even choose not to divorce for several years. They do so for a variety of reasons from remaining in the matrimonial property for the sake of their children to the need to finalise agreements before legally ending the marriage through to indecisiveness. Having worked at an online divorce company for almost five years know (and having assisted many people during this time) I cannot recall a single client having purchased our services within the first few months of them having separated.
I certainly do not feel that we make divorce too easy and that's because, in my opinion, you cannot make a divorce too easy. You can provide a customer with a positive service that makes the process and experience more tolerable, but you cannot make it enjoyable.