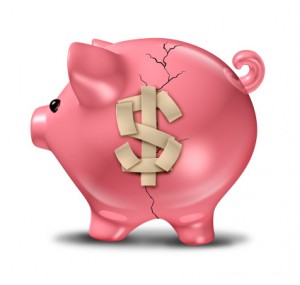 Believe it or not, people who go bankrupt do enjoy some advantages. Bankruptcy, in fact, exists so that people who make a mistake financially don't have their entire life ruined for the rest of their existence. It gives people an opportunity to get a fresh start, to do things right and, after the bankruptcy has gotten off of their credit report, to start rebuilding their credit without having to repair a tremendous amount of damage that they may have caused in their youth. There are disadvantages to going bankrupt, as well, and you want to take these into account if you're considering filing for bankruptcy.
Collectors Go Away
If you are considering filing bankruptcy, it's likely that your phone is ringing off the hook with collection agents trying to get money out of you. One of the advantages of filing for bankruptcy is that you get a stay order against those collectors. Until your bankruptcy is resolved, those collectors cannot bother you about the bills you have with them without contacting the court first.
While this may seem like a small benefit from the outside, it is a huge benefit. It allows you to get time to consider your situation, to put together your bankruptcy claim and to not be constantly stressed by people who are reminding you incessantly of debt about which you are already well aware.
Keep Your Home
There are accommodations that allow people to stay in their homes if they declare bankruptcy. This can allow you time to get back in the good graces of your mortgage holder and ensure that you don't end up out on the street. For some families, this is absolutely the best move possible.
Disadvantages
There are basically two types of bankruptcy that individuals can file for: Chapter 7 and Chapter 13. In a Chapter 7 bankruptcy, all of the existing debt that you have is liquidated, except for those debts that are guaranteed. Student loans, for instance, do not go away. In a Chapter 13 bankruptcy, you still pay off your debts, but you pay them off through the courts at a rate that is affordable for you.
The disadvantage to both of these types of bankruptcy is that they do stay on your credit report. It can make it much more difficult for you to get lending and, in some cases, to even get an apartment. Compared to having your wages garnished to pay back credit cards with ridiculous interest rates or other unsecured debts, however, bankruptcy may actually be preferable.
Talking to an attorney who handles bankruptcy law is the best way to determine whether or not it's time for you to go ahead and file bankruptcy.