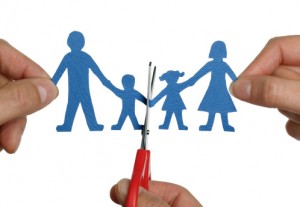 Six out of ten parents do not believe that a "good" divorce exists, new survey findings suggest. The findings, from a poll by the counselling charity Relate, found that the majority of parents who have been through a separation do not agree that there is such a thing as a good split.
A similar number of those asked also said that although they had tried to minimise the suffering of children involved, the separation had a negative effect. The survey also highlighted the lengthy process involved in a marital or relationship split, with only four in ten saying that their separation had been complete within a year. 10% of those asked revealed that a separation had taken more than five years to complete.
The chief executive of Relate, Ruth Sunderland, highlighted the potential negative impacts of parental separation on children, suggesting that it can cause school problems, mental and physical health issues, and alcohol misuse. She added that "having strong relationships that go the distance in good times and bad and knowing how to manage the separation process can improve outcomes for everyone."
The study also found that the Christmas spirit appeared to have had little effect in holding relationships together, with the first Monday of January seeing more than 19,000 calls to Relate. This was a rise of 53% compared with the first working day in December. This day has become known as "Divorce Day", with many law firms regularly suggesting that they are inundated with such inquiries early in the New Year. This year's Divorce Day figures were up by half on last year's total, indicating that the nickname is becoming more and more applicable.
Relate's findings support a previous study by Netmums, the parenting website, which suggested that divorce and separation has a much more serious effect on children than parents acknowledge or recognise.
Further down the relationship separation spectrum, government plans to remove legal aid in family law cases means that firms are beginning to offer reduced price services.
The mediator Marc Lopatin is one such law professional, having set up a service which he believes can cap legal fees at £1,600 per party. The package can be found online at http://www.lawyersupportedmediaton.com.
This article was written by K J Smith Solicitors, specialist family solicitors in Reading, London, Windsor and Henley-on-Thames.