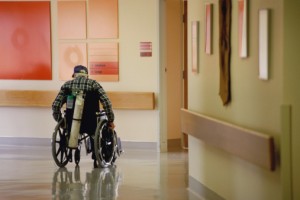 It's never easy to decide when to move a loved one into a nursing home or permanent care facility. It will probably be one of the hardest decisions you will make in your lifetime. After you sit down and decide that the best thing for your loved one is to be in a place where they can be surrounded by others and have the care
and supervision they need, then it is time to try and figure out what nursing home will be the best for them. There are many things that need to be considered when choosing a nursing home, especially considering this will be the place that your loved one spends the rest of their life. To further complicate matters nursing homes are far from equal in terms of providing the care your  loved one deserves. Instances of neglect and abuse in nursing homes are not uncommon and over 20,000 complaints of abuse in retirement homes are reported each year.
 Make an Unscheduled In-Person Visit to Inspect the Facility
The easiest way to cross a nursing home off of your list is to visit the facility in person and inspect it yourself. This can be difficult, as the staff tends to be on their best behavior when a prospective client is taking a tour. There is a way around this for you to see what the conditions are really like, and that's by dropping by unannounced to visit. By not giving them any advanced notice you can see what the place will be like while your loved one is living there. The best time to do this is on the weekend, when the facility does not have as many staff working, and during meal times, when interaction is the most important. If you see staffers ignoring tenants then it's probably fair to assume they will treat your loved one the same way.
 Remember the Needs of Your Loved One are More Important than Your Own
The most important thing about choosing a nursing home is remembering that you are not going to be the one who will be living there. It becomes easy to confuse your own preferences with the needs of your loved one, choosing amenities in a nursing home that you may find appealing but that may not suit your loved one. Make sure you communicate with your family and really listen to their needs so that you can find a nursing home that has the features that will make them happy.
 Research the Quality of Different Nursing Homes in All 50 States
A little bit of research can go a long way and there is no better resource for looking into nursing homes than www.MediCare.gov's nursing home comparison system that gives 5-star rankings to nursing homes across the country. This allows users to narrow down their results by searching for different features and facilities. While written reviews of different nursing homes can be easily found across the Internet giving firsthand accounts of quality, Medicare's nursing home rankings are a good way of seeing the overall quality of a permanent care facility.
Once the decision to move a loved one into a nursing home is made, you need to take your time and make sure you choose a place that works for everybody. There are other factors that need to be considered as well, such as the location of the home and how often they allow visitors. If your loved one needs medical care, they will need a home that is capable of providing them with the personal attention they need. If they are fit and active they will need a home that provides regular activities so that they can maintain their level of fitness. Choosing a nursing home isn't easy, but with open communication between you and your loved one you can make a decision that works for everybody.
If you or a loved one has been the victim of nursing home abuse or neglect you may have a nursing home injury case.  For information about elderly abuse or neglect, visit the website of the Louthian Law Firm, P.A., a nursing home injury law firm located in Columbia, South Carolina at www.LouthianLaw.com.