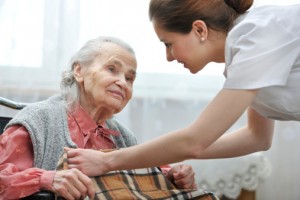 Each year, the U.S. News and World Report gathers a list of the best nursing homes around the country. A total of 39 facilities made the cut in 2012, representing the top-notch homes around the nation.  One in seven Americans will spend time in a nursing home this year. This country has approximately 16,000 different facilities around the country, and the U.S. News and World Report uses government analysis to name the best homes. Choosing a home for your loved one is a difficult and emotionally-charged decision and one that should be made carefully.
What's In A Good Nursing Home?
The U.S. Centers for Medicare and Medicaid Services set the standards for nursing home facilities around the country and evaluate them on an annual basis. The government considers any facility with 24-hour nursing care and medical services to be a nursing home. State agencies carry out regular inspections of the facilities, and that data is transmitted to the CMS.
Ranking Nursing Homes
CMS ranks nursing homes between 1 and 5 stars. In addition to the state-level inspections, homes are evaluated on their ability to provide enough nurses for the population inside the nursing home, health inspection reports, and the quality of care administered at the facility.  The U.S. News and World Report data breaks down from this award of five stars to share more information about the quality at each facility. To receive a perfect score of 15, a home must have received a 5 from CMS and scores of 5 in each of the underlying elements mentioned above. Those homes with a perfect score make up the top tier.
Nurse staffing levels: The CMS evaluates this data by looking at the average number of nurses available for the patients on a daily basis. This includes registered nurses, licensed vocational nurses, and certified nurse aides.
Health inspections: All nursing homes are required to accept Medicaid and Medicare patients, so CMS conducts health inspections every 12 to 15 months. In addition, any health-related complaints from residents are fully explored by CMS on a regular basis.
Care quality: Nursing homes are required by CMS to produce clinical data going back three quarters showing the history of all Medicare and Medicaid patients.  These data reports include any actions taken by the staff to physically restrain an individual as well are more general information, like chronic health issues.
How To Find a Top Nursing Home
The U.S. News and World Report site is very helpful in breaking down the best nursing homes around the country and also finding the best facilities by state. Location is important when choosing a home, and the detail collected in these reports can help you avoid facilities that are known for nursing home neglect. Combine this data with research of your own about each facility to find the best place for your loved one.