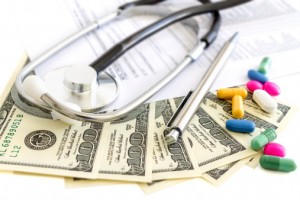 Janet, a professional accountant, was suffering from severe pain in her wrists, suspecting she had carpal tunnel syndrome from her years of repetitive computer tasks.  With the recommendation of a friend, Janet found a surgeon who worked at the hospital in her insurance network.  After she met with the recommended surgeon, she was more confident and happy with him than other surgeons she had talked to.  After her successful surgery, Janet was able to return back to work sooner than she'd expected.  Pleased with her progress and fast healing, Janet was happy that she didn't wait any longer to have her debilitating condition fixed.  About a month after her surgery, Janet had received bills in the mail to cover some costs of her surgery.  Janet was confused as she made sure she chose the right hospital in her network so that the surgery would be covered, in full, by her insurance.  Upon further investigation, Janet realized that the surgeon who performed the surgery was not part of her insurance network even though he worked in a hospital that was in her network.  The bill that Janet received is called balance billing and it occurs when a health care provider (in this case, Janet's surgeon) tries to collect money directly from a patient after getting partial reimbursement from an insurance company.  Janet knows that "balance billing" is illegal for Medicare recipients, but she's not sure if it is legal for her private insurance company. 
How to Avoid a "Balance Billing" Nightmare
If you have recently become a victim of balance billing, there may not be a lot you can do other than refuse to pay the bill or seek legal advice.  The best way to avoid balance billing is to work out all of the details before you are billed for a medical procedure, exam, or hospital stay.
–          Choose within Your Network:  Sometimes in the event of an emergency, it is not possible to be treated by a health provider in your network, but if you are in charge of choosing a physician or surgeon (for example), you should make sure they are in your network.  Even if they work in a facility that is in your network, the individual doctor may not be in the network.  While you may want to go with a doctor that you have heard so many good things about, make sure he/she is in your network otherwise you may have to prepare to pay out of pocket.
–          Verify the Person is in Your Network:  If you rely on the information that comes in your insurance packet, it may be incorrect or even outdated.  When choosing a medical professional, do not go by what you read or see in a book or on the internet.  Call the office and double check that he/she is part of your insurance network.  Failure to double check might leave you with an unexpected bill.
–          Don't Fear Price Negotiation:  You may be forced to visit a specialist who is not in your network.  If this is the case, try to find out the bill for your procedure.  According to a patient advocate, Jane Cooper, after you find out how much your bill will be, check with your insurer to see how it matches with the out-of-network service pay.  A patient, who is prepared with this important information, may be able to negotiate successfully with a doctor.   If you are stuck with balance billing, try to negotiate a payment plan to keep your bill from heading to collections.  If you are able or need to, also consider talking with your insurance company to see if they will be willing to front some of the balance bill.
"Balance Billing" can be an unwelcome and financially frustrating surprise.  If you are recovering from an accident or a medical procedure, your focus should revolve around your healing not the overwhelming worry of how you'll cover the bill.  The doctor's may be in control of your health, don't let them control your finances!