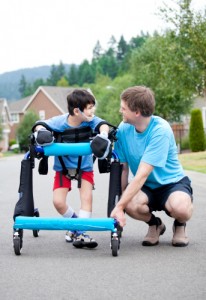 One of the most common of all childhood disabilities, cerebral palsy, is a disorder which impacts the individual in many different ways. People who live with this condition experience difficulties in movement, motor skills, and muscle tone. Also commonly known as CP, the main cause of cerebral palsy is brain damage which happens in utero, during childbirth, or very shortly after childbirth – in some rare cases, cerebral palsy cans be from brain injury which occurred before the child researches 5 years old. Causes of CP are varied and sometimes unknown; BBC Health points out that some causes include an infection during the pregnancy of the mother or fetus can cause this disorder – other factors include fetal injury in the womb and during childbirth, and infant seizures.
Facts About Cerebral Palsy
Cerebral palsy is the number one most prevalent motor disability in children
According to the CDC, an average, 1 in 303 children are diagnosed as having cerebral palsy by the time they are 8 years of age
African American and Caucasian children suffer from CP at a much higher rate than Hispanic children
Boys are 1.2 times more likely to have CP than their female counterparts
40% of children with CP also have a mental disability
35% of people who have cerebral palsy also have epilepsy
1/4 of children with CP actually have both a mental disability and epilepsy
Babies born prematurely and/or of low birth weight are more likely to have CP
A twin is 5 times more likely to have cerebral palsy
Children conceived through IVF are 1.6 times more likely to be born with CP
Medical costs for children with only CP are ten times more than a child without a disorder
Children with cerebral palsy and mental disabilities will face medical costs which are 26 times higher than a child without either
Signs and Screening
Sometimes symptoms of CP are not clearly visible or easy to pinpoint. Signs of this disorder are not as cookie cutter as they can be with other conditions; each person may have completely different symptoms than the next person. Most commonly, cerebral palsy will start to raise questions around early infancy; when a baby fails to meet developmental milestones, parents often start to become concerned. Babies with CP often miss important markers for rolling over, sitting up, crawling/scooting, and walking. Less obvious signs in infants are abnormal postures, underdeveloped muscle tone, and twitching – these signs might only be noticed by a doctor with experience in this area. Most experts will agree that the earlier a child is identified as having CP, the better. Diagnosis is also very important for families of these children as they will then be able to receive help for care of the child through insurance and certain government programs. Diagnosing a child involves monitoring & screening for developmental cues, and medical evaluations.
Getting Treatment
While there is no cure for CP, there are treatments which can help the individual manage their symptoms. Intervention treatments and programs have proven effectiveness for both children and adults suffering with cerebral palsy. Common treatments include speech therapy and physical therapy, both of which are usually carried out through adulthood. Learn more about research and prognosis for cerebral palsy on the National Institute of Neurological Disorders and Stroke's webpage.
Salvi, Schostok & Pritchard P.C. is a Cerebral Palsy injury law firm located in Chicago, Illinois. For more information, please visit us at www.cerebralpalsyinjuries.com.