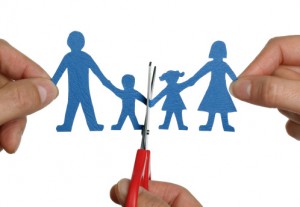 Approximately half of marriages, in the United States, end in divorce.  While not every married couple has children, it can be assumed that a large number of children are faced with their parents' divorce each year.  When parents decide to divorce it is their responsibility, for the well-being of their child, to discuss the divorce with their child.  Many parents seek out additional resources, such as books, to make their discussion a bit easier or to answer questions that may be hard to answer on their own.  There is a plethora of books for younger children, specifically between the ages of 4 – 9, that are specifically written about divorce.  Many of the books are picture books with colorful illustrations concentrating on using simple concepts and a discussion of emotions.  Aside from "self-help" type of books, there are fewer books on divorce available for pre-teen and adolescent children.  While the needs of an older child are different from young children, a book addressing divorce can be helpful to an older reader.
Stereotypically, girls are most often classified as "readers".  Much of the pre-teen and adolescent fiction and non-fiction literature discussing divorce has female protagonists or themes aimed at young women.  Parents of pre-teen and adolescent boys may need to search a bit more, but there are books with adolescent boys as the protagonists dealing with family issues like divorce.
Homesick, a 2012 release by Kate Klise, is a novel with a young male protagonist, appropriate for readers between 9 and 12 years old.  The main character, Benny, lives with his parents who have separated.  His mother has left the family and his father has hoarding issues.  Many readers may connect with Benny and the pressure and need to be responsible in his crumbling home life.  Reflected in a Kirkus Review, "Benny gets a job at the local radio station to scrape together money to pay the phone bill so he can stay in touch with his mother. She's planning to get settled and return for him at the end of the school year, but Benny's dad is spiraling downward fast."
While Benny's scenario may seem "too big to be true", children of divorced parents may relate to Benny's situation and his feelings.  Sometimes a story, bigger than their own, might make a child feel better about their own situation.
Children, of any age, may benefit from tools, such as literature, when dealing with divorce in their family.  Parents and children can connect through literature and gain a better understanding about divorce.  Literature can remind children, of any age, that divorce is not their fault, not their responsibility, and despite the situation, a parent's love still remains before, during and after the divorce.
For more information about divorce please visit the website of Charles Ullman, a Cary, NC Divorce Lawyer at divorcelawnc.com.