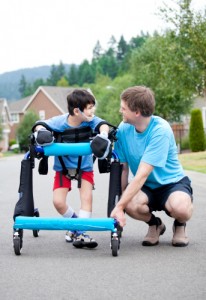 Cerebral palsy is often seen as a muscular disorder, but it is actually a combination of several neurological conditions that can affect the muscles quite dramatically. The word "cerebral" references the cerebrum, which is a part of the brain. Therefore, cerebral palsy is a disorder that originates in the brain. This article discusses cerebral palsy risk factors.
Cerebral Palsy and Medical Malpractice
Some babies are born with noticeable signs of cerebral palsy, while other children have symptoms but are not properly diagnosed for a few years. However, most cases of cerebral palsy are noticed within the child's first three years of life. One key sign of cerebral palsy includes the child being slow to do any of the activities that are normally done at their age, such as sitting up, crawling, laughing, and talking. A lack of muscle control is also a noticeable sign of cerebral palsy.
Medical malpractice can be a risk factor associated with the disorder. However, it's not only medical malpractice that can cause cerebral palsy; many children are born with cerebral palsy where medical malpractice was not proven to be a part of the equation.
Hypoxia and Cerebral Palsy
There is a condition that develops when the brain does not receive the proper amount of oxygen; this condition is called hypoxia and it can develop over the period of time between birth and the few days after birth. Babies born with a limited oxygen flow to the brain have a 40 to 70 percent chance of ending up with a life-long disorder such as cerebral palsy, while the other percentage will end up with no disability.
Limited oxygen flow to the brain can sometimes occur for no known reason when the baby is in the womb, but it can also occur during the birthing process. When the baby is in the womb, the following things can happen: the umbilical cord may become wrapped around the baby's neck; there may be an infection; or the baby may suffer congenial heart disease. All of these issues can result in a decrease in oxygen to the baby's brain. Hypoxia occurs in approximately 2 to 10 of 1000 births in the Unites States.
Head Trauma and Cerebral Palsy
Head trauma is serious, and it can result in cerebral palsy. Head trauma can occur as a result of medical negligence during the birthing process. When head trauma happens to full-term babies during labor or delivery, it is usually evidenced by the abnormality of the pH in the cord blood. In addition to pH, the baby usually scores quite low on the Apgar scale, and the fetal monitor will often indicate oxygen deprivation.
Cerebral palsy is a serious condition that develops in nearly 10,000 new babies every year in the United States. It is a life-long condition that significantly affects the quality of life for children and their families. It's important for new parents to better understand cerebral palsy, its risk factors, and learn what they can do to improve their situation.
If your child was born with cerebral palsy and you believe that it was a result of medical malpractice or hospital negligence, seek a legal professional to review your case.  Janet, Jenner & Suggs, Attorneys at Law represent cerebral palsy victims nationwide.  For more information, visit the website of cerebral palsy attorneys Janet, Jenner & Suggs at www.Cerebral-Palsy-Injury.com.